U130
GIVE A NEW DIMENSION TO YOUR BUSINESS
The solution dedicated to field mapping and analysis
A comprehensive solution that fits your business
Used by many land surveyors, the U130 solution perfectly completes the range of conventional equipments used for field mapping. The U130 provides an appropriate answer all along the process, from data acquisition in the field to the edition of surveyor plan and reports.
360° of observation
Full coverage of the inspection
Plug&play payload
The best sensor for every situation
Rotor protection
For maximum safety close to the structures
Dedicated business software
A unique software suite designed for professionals
Propose your customers a safer and more precise solution
The U130 micro-UAV solution completes equipments traditionaly used for field mapping (tacheometer, GPS). It brings land surveyors and their customers many advantages, among which :
A significant reduction of time necessary for data acquisition in the field,
An easy deployment in the field thanks to a limited space necessary for takeoff and landing,
A minimized risk exposure of your staff thanks to a facilitated access to dangerous areas,
A facilitated data processing thanks to a specialized software.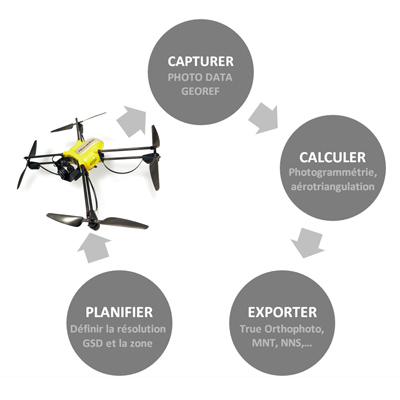 More than a data acquisition tool, a comprehensive solution that integrates into your existing processing chain
Novadem is aware that the biggest part of the job begins once back at the office with the processing of data. Consequently, Novadem has developed a comprehensive solution, hardware and software, that perfectly integrates into your existing processing chain.
Novadem has developed a software suite that offers land surveyors simplicity and efficiency in their daily work.
A solution adopted by land surveyors
The U130 micro-UAV solution has become the usual tool for different missions of land surveyors, to name a few : volume calculation in quarries, generation of orthophotos and DTM, 3D modelisation of rock walls.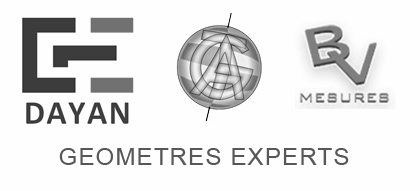 Technologies designed for field mapping
The U130 micro-UAV solution get the highest performance level to fit the needs of your business. The solution integrates :
A gyrostabilised gimbal : the two compensation axis ensure the stability of the camera (at the nadir) and that photoshoots are orthogonal to the ground.
Calibration of your camera : Novadem proposes a service of calibration of your camera with delivering of a calibration data file.
Georeferencing : each picture integrates georeferencing data including spatial and angular positioning coordinates expressed in omega, phi, kappa.
GNSS receiver : each U130 is equipped with a GNSS receiver increasing the precision of navigation and the georeferencing of data.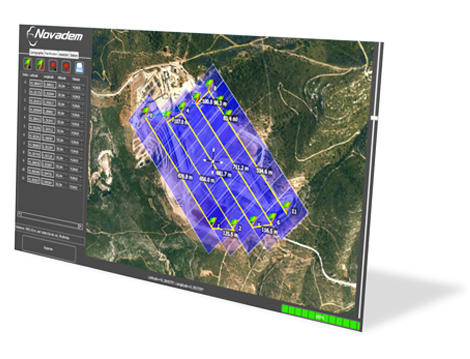 An intuitive and ergonomic software for your mission preparation
Novadem has developped NovaMAPPER, a mission preparation software. In a few minutes, prepare your flight plan :
Define the area to be overflown on a map (Google Map, Bing),
Select your camera in the drop-down list,
Define the resolution (GSD) and the expected pictures' overlap.
NovaMAPPER then automatically defines the flight plan, the altitude, the number of pictures necessary to cover the area and an approximative time of the mission (number of batteries necessary).
Once in the field, start your flight plan and let the U130 accomplishes the mission autonomously. Only 10 minutes of flight is necessary to cover an area of 10 ha with a 2 cm resolution accuracy.
A fast and powerful 3D reconstruction software
Thanks to Smart3DCapture, the best photogrammetry software on the market,  quickly transform the pictures taken with the U130 in a precise 3D model. For example, it takes less than 3 hours to process a project of 200 pictures captured with a 24 Mpix camera.
Export data in different formats (OBJ, LAS, COLLADA) enabling to use them with your usual softwares (ex : AutoCAD Covadys), share the results with your customers thanks to the viewer version they can freely download.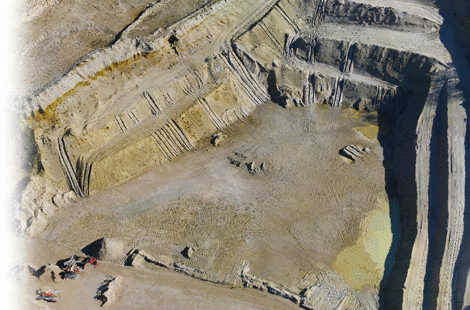 The U130 pack : Mapping and field analysis
A comprehensive offer dedicated to professionals
The U130 solution dedicated to field mapping is composed of a comprehensive and easy-to-use software suite in order to bring an efficient and user-friendly working environment. The solution is divided into three axis :
EQUIPMENT
Drone / Control station / Software / Accessories
EXPERT SOFTWARE
Smart3DCapture : Photogrammetry software
NovaMAPPER : Preparation of missions
NovaEDITOR : Visualisation of data acquisition directly in the field
SERVICES
Training
: Theoretical and practical
Maintenance and assistance : Service / Hotline / Support
This comprehensive solution allows our customers to use in the best conditions this new tool that will change their business by obtaining a better quality and more efficiency. Novadem assists its customers at each step, from administrative aspect (MAP, support with the DGAC), to insurance (RC, machine breakdown) and technical aspects (upgrades, assistance).
Our team of experts is also at hand to support you and meet your expectations.